Introducing the new NebraskaBlue.com
A refreshed online experience that's all a part of our plan to make health care work better for you.
See the New Features
The New NebraskaBlue
New look. New website. Better experience.
As a part of our plan to help make health care work better for you, we've revamped NebraskaBlue.com. Built from the ground up, the new site includes streamlined navigation, an updated look and feel and refreshed content throughout. We've paid particular attention to ensuring our mobile visitors have an improved user experience to find what you need as quickly and easily as possible.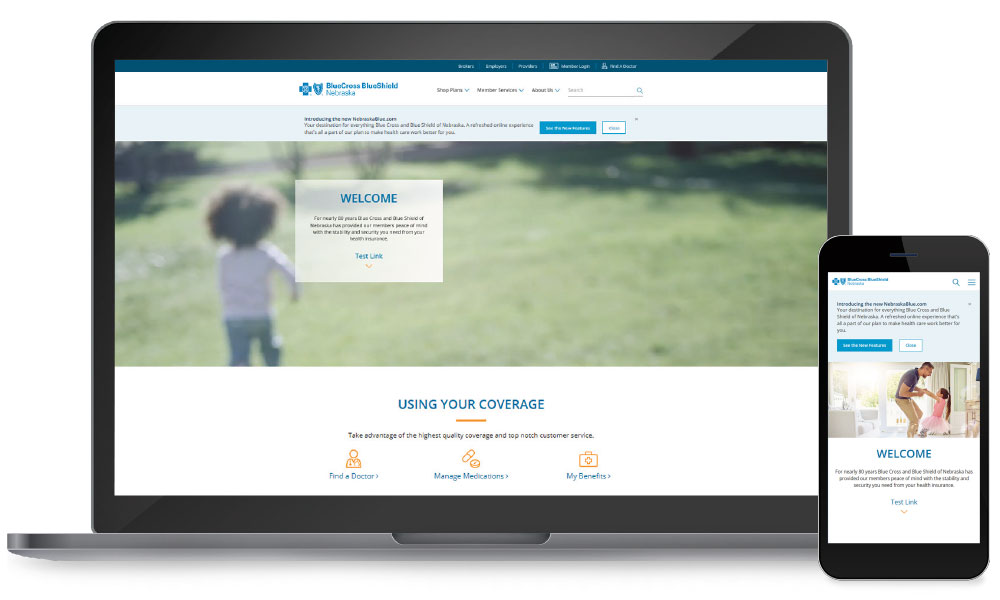 We're eager for you to try the new features, especially these:
Enhanced Mobile-Responsive Design
The new mobile-responsive design ensures that you can access the information you need no matter where you're at. With this new site, everything you need will be easily accessible from the palm of your hand.
Easier Shopping for Health Plan Options
With a completely reworked Group Health Plans section, we are highlighting the most important plan details so prospective employers know exactly what they are buying.
More Member Support to Reduce Health Care Confusion
We know health care is confusing so we have added more information about managing your benefits, finding a doctor, and getting care to help you make informed health care decisions.
Employer Resources to Help Employees Manage Benefits
We know the benefit managers at our employer groups have a big task of helping the company and employees determine what's best for their health benefits. That's why we've created more employer resources to help you be prepared and empower your employees.
Streamlined Provider Access to Self-Service Tools
We strive to ease the administrative work for doctors and hospitals. With online tools for providers like NaviNet and MedPolicy Blue, providers are able to easily access eligibility and benefits, claim statuses, prior authorization requests and more. These tools are easy to use, and make the process move more quickly for members.
Questions, comments, or feedback?
Email digitalmarketing@nebraskablue.com.