The federal government will end the COVID-19 emergency declarations on May 11, 2023. This means starting May 12, 2023, standard health plan provisions will apply with cost shares as applicable for COVID-19 testing, related services and vaccine administration.
Read more
Anthony Goins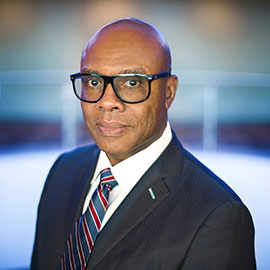 Chief Business Optimizer, The Business Optimizer & Partners LLC
Anthony Goins leads Tony Goins and Partners, a firm designed to support businesses that are actively growing their market share, including international expansion.
As the former Director of the Nebraska Department of Economic Development, Goins served under two administrations for almost four years. Under his leadership, his team achieved over $10 billion in economic development and created more than 7,000 jobs.
Goins has held several senior-level positions during his career, including Executive Vice President and Chief Operating Officer at Cabela's World's Foremost Bank, Senior Vice President, and Support Executive at JPMorgan Chase where he led operations in North America & Asia. He also held key roles at USAA, Ford Motor Credit Company, Key Bank, and American Express.
In addition to Blue Cross and Blue Shield of Nebraska, Goins serves as a director on the following boards: Nelnet Bank (chair of the Risk and Compliance Committee/Executive Committee member); Inceptia, a division of the Nebraska Student Loan Program; and I3 Bank (board advisor).
Goins majored in business management at North Carolina A&T State University and served as a sergeant in the United States Marine Corps.