The federal government will end the COVID-19 emergency declarations on May 11, 2023. This means starting May 12, 2023, standard health plan provisions will apply with cost shares as applicable for COVID-19 testing, related services and vaccine administration.
Read more
Dan E. Ernst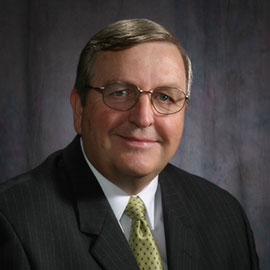 Associate Executive Director, Nebraska Council of School Administrators
Dr. Dan E. Ernst serves as Associate Executive Director of the Nebraska Council of School Administrators (NCSA). He was appointed in 2007 and is responsible for mentoring and training programs for new school administrators. Additionally, he works with school administrators across Nebraska, serving as a resource and consultant. Ernst served as Chairman of NCSA from 2004-2005 and was a member of the Legislative Committee from 2003-2012. He is a registered lobbyist and assists with legislation activities on behalf of NCSA and its members.
Ernst received his bachelor's degree from Wayne State College; master's degree from the University of Nebraska at Kearney; and educational specialist and educational doctorate from the University of Nebraska at Lincoln. He has served in Nebraska schools as a teacher, assistant principal, principal, and superintendent. Prior to employment with NCSA, Ernst served as Superintendent of Schools, School District 145 (Waverly) from 1994-2007. He was recognized as the Nebraska Superintendent of the Year in 1994 and has received numerous recognition and awards throughout his tenure as a school administrator.
Ernst served on the Board of the Educators Health Alliance from 2002-2012 and served as Chairman from 2010-2011. Currently, he serves as a member of the Nebraska Safety Center Advisory Board, Pupil Transportation. Ernst has lead school improvement workshops for the Nebraska Department of Education; been a member of the Policy Advisory Committee for Statewide Longitudinal Data Systems; an advisory member for the Nebraska Teacher/Principal Performance Framework; and a consult with the Nebraska Department of Education Office of Coordinated School & District Support. Additionally, he has represented school administrators on the Council of Chief, State School Officers Consortium on Educator Effectiveness and the Nebraska Department of Education Educator Effectiveness Committee. Ernst is a member of the Nebraska Society for Association Executives.