We're closely monitoring the coronavirus situation. Read about coverage for members.
Read more
George G. Beattie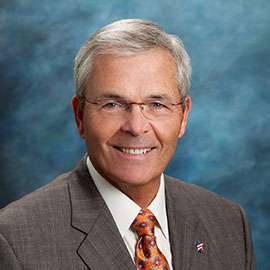 Vice Chairman, Blue Cross and Blue Shield of Nebraska
George G. Beattie is the Past President of the Nebraska Bankers Association, a statewide trade association of commercial banks, savings institutions and trust companies. The association's priorities include legislative representation, education, industry promotion and public relations, and an array of products and services designed to meet the needs of Nebraska's financial services industry.
After graduating from Kearney State College (now the University of Nebraska at Kearney) with a Bachelor's degree in education, Beattie spent several years in the teaching field and in his family's farming operation. In 1985, he became Assistant Vice President and Agricultural Loan Officer at Platte Valley State Bank in Kearney.
In 1987, Beattie was selected as the Assistant Director of the Nebraska State Department of Agriculture; he was named Director in 1989. He began his career as the Chief Executive Officer of the Nebraska Bankers Association in 1991.
Beattie is a Trustee for the Graduate School of Banking and the Prochnow Educational Foundation of the Graduate School of Banking at the University of Wisconsin-Madison. He also serves on the Board of Directors for several organizations, including the Kansas and Nebraska Bankers Associations' Schools of Banking, Invest Nebraska and the Nebraska Bankers Insurance and Services Company. In addition, he is a member of the Executive Committee of the Nebraska Council on Economic Education and is a trustee of the Madonna Foundation.
Previously, Beattie served on the boards of the Midwest Housing Equity Group Inc., the nationwide Bankers Electronic Network and the American Bankers Association. He is also a past Chairman of the American Bankers Association State Association Division.
Beattie is a past President of the Nebraska 4-H Development Foundation, the Midwest Association of State Departments of Agriculture and the Mid-America International Agri-Trade Council. He is a past Executive Board Member of the National Association of State Departments of Agriculture.
Beattie currently is a member of the Nebraska Chamber Economic Development Council and the Lincoln Chamber of Commerce, and is a past Board Member of the Nebraska Leadership Council.