The federal government will end the COVID-19 emergency declarations on May 11, 2023. This means starting May 12, 2023, standard health plan provisions will apply with cost shares as applicable for COVID-19 testing, related services and vaccine administration.
Read more
Jeff Russell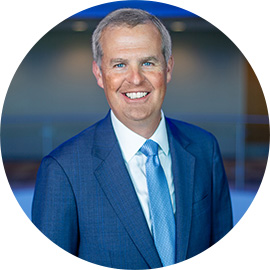 President and Chief Executive Officer
Jeff Russell is the president and CEO of Blue Cross and Blue Shield of Nebraska (BCBSNE). Previously, Russell served as president and CEO of Delta Dental of Iowa, the state's largest dental insurance company, providing dental, vision and legal benefits to more than 1.6 million members.
Russell has more than 20 years' experience in senior leadership roles. Prior to Delta Dental, he led a variety of companies in the banking and payments industry. He was president and CEO of TMG Financial Services, helping to grow it to be one of the 30 largest Mastercard issuers in the U.S. He also held various executive positions for The Members Group, a financial technology and payments company, including heading the marketing, technology, product development and finance units.
He served as founding chair of the Global Insurance Accelerator and is a past president of the Federation of Iowa Insurers and the Iowa Healthiest State Initiative.
Russell earned a bachelor's in journalism from Drake University and a Leading Change and Organizational Renewal Certificate from the Harvard School of Business.