We're closely monitoring the COVID-19 situation. Read about coverage for members.
Read more
Karen B. Aman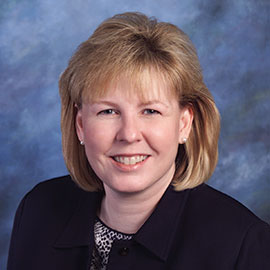 Vice President, Mid America Computer Corporation and owner of EnSite Inc.
Karen B. Aman is the Vice President of Mid America Computer Corporation (MACC) and the owner of EnSite Inc.
She graduated from Augustana College in Sioux Falls, South Dakota, where she earned a Bachelor's degree in business administration.
Aman has extensive civil involvement experience and has served the following organizations:
The Knights of Ak-Sar-Ben Foundation River City Roundup Board
Knights of Ak-Sar-Ben Foundation - His Majesty's Council, as a councilor
United States Telephone Association Board
Western Rural Telephone Association, as past president
Nebraska Telephone Association
Nebraska Independent Telephone Association
Young Presidents' Organization - Nebraska Chapter
Down Syndrome Alliance of the Midlands
Blair Community Schools District-Wide Special Needs Committee
Daughters of the American Revolution
P.E.O.
Merrymakers Association Board.
Aman and her husband, Craig, reside in Blair, Nebraska. Craig serves as President and CEO of MACC. They have two children, Whitney and Alec.