The federal government will end the COVID-19 emergency declarations on May 11, 2023. This means starting May 12, 2023, standard health plan provisions will apply with cost shares as applicable for COVID-19 testing, related services and vaccine administration.
Read more
Ron Rowe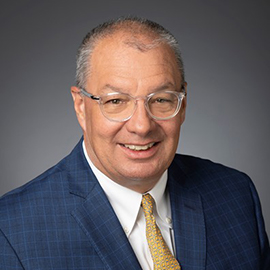 Executive Vice President and Chief Revenue Officer
Ron Rowe is executive vice president and chief revenue officer at Blue Cross and Blue Shield of Nebraska (BCBSNE). In his role, he drives revenue growth and builds strong relationships with the company's clients. He oversees the sales, account management and association health plan teams as well as the market segment leaders for large and small group products, individual under 65 products and senior products.
Previously, Rowe worked at Blue Cross and Blue Shield of Kansas City (Blue KC), where he served in numerous leadership roles, including sales, marketing, underwriting, operations and information technology. Prior to joining Blue KC, Rowe held leadership positions across other areas of the health care space. He served as the CEO of six specialty hospitals and worked with political committees on health care reform during the Clinton Administration. Prior to that, Rowe served in the U.S. Army on active duty for eight years working in the medical corps.
Prior to coming to Nebraska, Rowe served for 10 years on the West Platte R2 Board of Education, where he was elected president for six terms. He was also a board member of the Kansas City Metropolitan Crime Commission from 2018-2021.
Rowe earned his bachelor's degree in accounting, business administration and management at Park University.