The federal government will end the COVID-19 emergency declarations on May 11, 2023. This means starting May 12, 2023, standard health plan provisions will apply with cost shares as applicable for COVID-19 testing, related services and vaccine administration.
Read more
Melissa Acosta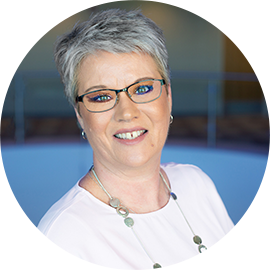 Senior Director, Market Solutions
Melissa Acosta is the senior director of Market Solutions at Blue Cross and Blue Shield of Nebraska (BCBSNE). In her role, she oversees the strategy, insights and innovation, proposal and inter-plan management and strategic business integration teams.
In her more than 11 years at BCBSNE, Acosta has also served as the senior director of information services, helping the department make the transition to an agile methodology while leading a large system migration. She has also worked as an information services manager overseeing business/systems analysts and architects and an enterprise product owner for the Azure data integration team.
Before coming to BCBSNE, Acosta served as a program manager for strategic accounts at First Data Voice Services.
Acosta earned a bachelor's degree in computer information systems from Bellevue University.