We're closely monitoring the coronavirus situation. Read about coverage for members.
Read more
Rama Kolli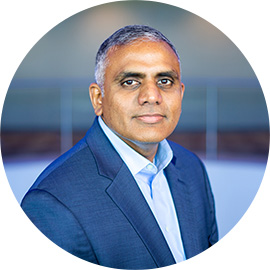 Vice President, Information Services and Chief Information Officer
Rama Kolli is vice president, information services and chief information officer for Blue Cross and Blue Shield of Nebraska (BCBSNE) and is a leader on the company's service and technology team.
In his more than 16 years at BCBSNE, Kolli has been instrumental in many critical endeavors, including modernizing systems, building and leading the enterprise architecture team and championing the architecture that serves as the foundation of the company's technical future. He also was a member of the business innovation team responsible for providing strategy in addressing the challenges of the health care law.
Previously, Kolli worked as a developer consultant at noteClip in New York, Niku in Silicon Valley and at DSQ Software Ltd in India before coming to the United States.
Kolli earned a bachelor's degree in science from Nagarjuna University, India and a master's degree in computer applications from the University of Chennai, India. He serves as a board member for the AIM Institute and March of Dimes Nebraska and is a member of the eHealth Council of Nebraska Information Technology Commission.