The federal government will end the COVID-19 emergency declarations on May 11, 2023. This means starting May 12, 2023, standard health plan provisions will apply with cost shares as applicable for COVID-19 testing, related services and vaccine administration.
Read more
Rama Kolli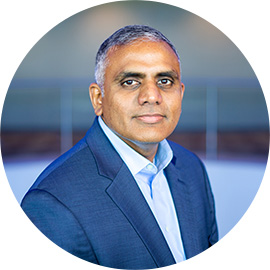 Vice President, Information Services and Chief Information Officer
Rama Kolli is vice president, information services and chief information officer for Blue Cross and Blue Shield of Nebraska (BCBSNE) and is a leader on the company's enterprise solutions team.
In his more than 19 years at BCBSNE, Kolli has been instrumental in many critical endeavors, including modernizing systems, building and leading the technology team and championing the culture that serves as the foundation of the company's future.
Previously, Kolli worked as a developer consultant at noteClip in New York, Niku in Silicon Valley and at DSQ Software Ltd in India before coming to the United States.
Kolli earned a bachelor's degree in science from Nagarjuna University, India and a master's degree in computer applications from the University of Chennai, India. He previously served as a board member for March of Dimes Nebraska.