Pharmacy
Prescription Drug Program
Your prescription drug benefits are an important part of your health plan coverage and are based on Blue Cross and Blue Shield of Nebraska's drug formulary, or list of generic and brand name drugs. The copay/coinsurance you pay for a prescription drug depends on whether or not the drug is included in the formulary, and if the drug is generic or brand name.
Lowest copay/coinsurance = generic drugs
Middle copay/coinsurance = formulary brand name drugs
Highest copay/coinsurance = nonformulary brand name drugs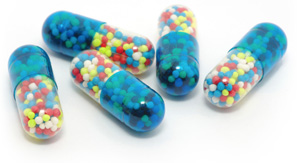 Whenever appropriate, generic drugs will be used to fill your prescriptions. If you prefer a brand name drug when a generic equivalent is available, you will be responsible for the difference in cost, plus the applicable copay/coinsurance amount.

You do not have to use formulary medications, but if you do, you will pay less out of pocket.
MyPrime
Blue Cross and Blue Shield of Nebraska is committed to providing you with valuable information you can use to manage your prescription drug purchases. Our pharmacy benefit services are provided by Prime Therapeutics, an independent pharmacy benefits management company. Prime's website, MyPrime.com, is loaded with interactive tools to help you manage your family's prescription drug costs.

With MyPrime, you can find:
your prescription benefits
your drug claim history
a prescription drug list (also known as a formulary)
a drug cost calculator
a comparison of brand name and generic drug costs
Find out what drugs are covered.
Alliance Rx Walgreens Prime Mail Service Pharmacy
Prime's mail service pharmacy offers mail delivery of your maintenance or long-term medications to your home or a location of your choice. With PrimeMail, you can get up to a 90-day supply of your long-term medicines with the highest standards of quality, safety and service. Ordering maintenance or long-term medications through PrimeMail has many advantages:
Cost savings
Convenient delivery and ordering options
Medications dispensed by registered pharmacists
Outstanding customer service
To Set Up Your Mail Order Service
After you become a Blue Cross and Blue Shield of Nebraska member, set up your mail order service by doing the following: 1) print and complete the New Prescription Order Form, 2) obtain a new prescription from your physician and 3) mail the form and prescription to the address on the form.