The federal government will end the COVID-19 emergency declarations on May 11, 2023. This means starting May 12, 2023, standard health plan provisions will apply with cost shares as applicable for COVID-19 testing, related services and vaccine administration.
Read more
Armor Health Re-Enrollment
Your Armor Health coverage runs on a 12-month cycle. To continue your coverage, you must re-enroll each year. For example, if your coverage started on Feb. 1, 2020, you need to re-enroll to continue your coverage starting Feb. 1, 2021.
Each year, we will review your claim history, age, gender, tobacco use and geographic area.
About three months before your re-enrollment date, you will get a letter letting you know if you have been approved for coverage for the next re-enrollment period.
If you have questions about the process, or need to confirm your re-enrollment date, please call the Member Services number on the back of your member ID card.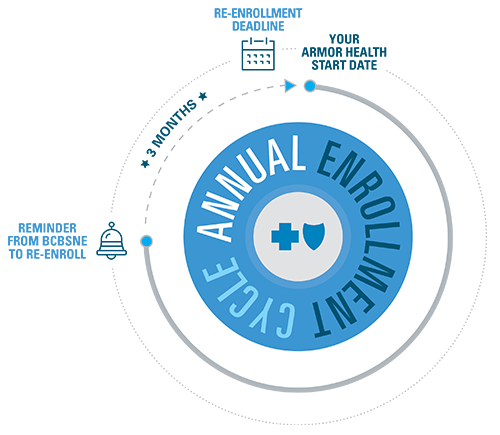 Contact your insurance broker to start the re-enrollment process. They will have access to your re-enrollment offer and will complete the process electronically.
We understand that being declined coverage is not favorable news. Now, more than ever, cost and coverage are a concern. The Affordable Care Act (ACA) offers a variety of similar plans with lower premiums that may be a better fit for your health insurance needs. Please contact your insurance broker or go to
Healthcare.gov
to see your ACA coverage options.