The federal government will end the COVID-19 emergency declarations on May 11, 2023. This means starting May 12, 2023, standard health plan provisions will apply with cost shares as applicable for COVID-19 testing, related services and vaccine administration.
Read more

Get started by downloading the app.
It's free and easy to use.
Download the Wellframe app* using the icons below:
Access Code: AMCON
Enter the access code and your member ID into the Wellframe app when prompted.
Sign up to win!

Those employees that register before Oct. 1, 2019, will have a chance to win prizes.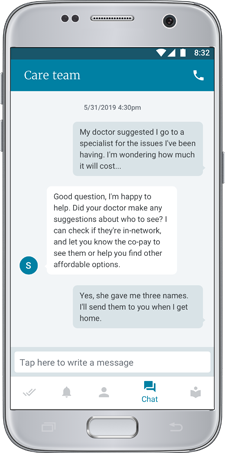 Provide Expert Guidance
Get the most from your benefits with a team that knows your plan and health history, and will tailor recommendations to your specific needs.

Coordinate Care
Your health care advocate can help you find an in-network doctor for your medical needs, so you pay the lowest out-of-pocket costs.

Answer Your Questions
Need an ID card? Curious about a cost or claim? Need to know where to go for care? Your health care advocate can answer your questions through our app.

Solve and Simplify
Health care can be complex. Your health care advocate does the hard part so you don't have to.
The resources will help you educate, empower and engage your employees with the BlueCares VIP Service program.
*Wellframe is an independent company that provides mobile enabled care management services to Blue Cross and Blue Shield of Nebraska. Wellframe is responsible for its services. App Store is a registered trademark of Apple. Google Play is a registered trademark of Google.