The federal government will end the COVID-19 emergency declarations on May 11, 2023. This means starting May 12, 2023, standard health plan provisions will apply with cost shares as applicable for COVID-19 testing, related services and vaccine administration.
Read more

Mom-To-Be
Pregnancy Care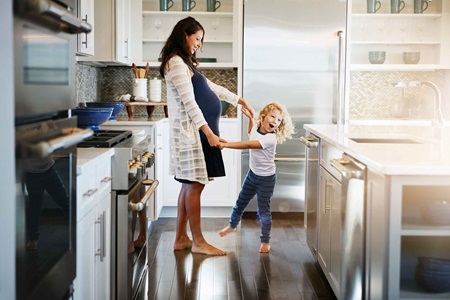 You probably have a lot of questions - what pregnancy coverage do I have? What pregnancy benefits are included? How much are labor and delivery costs? Let us help you find the answers to these questions and prepare for your upcoming arrival.
Pregnancy is Covered by Your Health Plan
Pregnancy is one of the 10 Essential Health Benefits under the Affordable Care Act. This means that there are no eligibility waiting periods for pregnancy coverage and pregnancy cannot be considered a preexisting condition. Health care coverage varies from plan to plan, so be sure to check your plan's specifics.
Pregnancy Care Program
The Pregnancy Care program provides you with education, encouragement and support throughout your pregnancy. As a member, you have access to this program which includes a pregnancy tracking app designed to guide you through exciting time and offer assistance maintaining a healthy pregnancy. In the app, you can chat with a nurse, receive appointment reminders and track medications.
Signing up for the pregnancy care app is easy. Download the Wellframe app from the Apple App store or Google Play store. You will need to enter your member ID, the expectant mother's date-of-birth, expected due date and access code NEBEGIN when prompted.
You will have access to:
Checklist – daily to-dos and education to maintain a healthy pregnancy
Customized notifications for medications, doctor appointments and other daily tasks
In-app chat with care manager to ask questions
Library of articles, pictures and videos
Participation in this program does not affect your health plan coverage for pregnancy care, or entitle you to benefits not otherwise payable under the Blue Cross and Blue Shield of Nebraska plan.
Member Testimonial
Meet Katie! She uses our pregnancy care app to talk to our nurses and health advocates about her pregnancy to ensure her and her baby are healthy.
Topics Related to Pregnancy  
Breast Pumps
Benefits are provided for breastfeeding support, supplies and counseling at little or no cost to you when you use an in-network doctor/hospital/pharmacy. Out-of-network doctors/hospitals/pharmacies will be reimbursed only up to the maximum allowable amount.
Your plan may also include one breast pump per pregnancy. To verify that breast pumps are covered under your specific plan, call the number on the back of your member ID card. Get more information about this program and view the in-network breast pump provider list.

Breast Pump In-Network Providers
Getting Baby Insured
Once your baby arrives, you want to make sure he or she is covered. Reach out to your health care administrator within 30 days of birth to add your baby to your plan. Also, make sure to choose an in-network pediatrician before your baby arrives so you're ready for their first doctor's appointment.
While benefits are not available under your health plan for all baby essentials, many useful items exist. Shop quickly and easily online!
Blue Cross and Blue Shield of Nebraska is a participate in the Amazon Services LLC Associates Program, an affiliate advertising program designed to provide a means for sites to earn advertising fees by advertising and linking to Amazon.com. Clicking the above links will take you to Amazon's website. Amazon is solely responsible for the content of their site, including its terms and conditions and privacy policies.
This will be hidden
Sign Up for the Pregnancy Program
If you do not want to use the mobile app, you can enroll by completing the pre-assessment below, or over the phone with one of our nurses by calling 877-348-4329.
Wellframe is an independent company that provides mobile enabled care management services to Blue Cross and Blue Shield of Nebraska. Wellframe is responsible for its services. App Store is a registered trademark of Apple. Google Play is a registered trademark of Google.