The federal government will end the COVID-19 emergency declarations on May 11, 2023. This means starting May 12, 2023, standard health plan provisions will apply with cost shares as applicable for COVID-19 testing, related services and vaccine administration.
Read more
ID Card Number and Prefix
General
Policy Number: GP-X-051
Last Updated: Sept. 28, 2022

Blue Plan ID card numbers feature a three-character prefix that MUST be included in your records and claims.

Blue Cross and Blue Shield of Nebraska (BCBSNE) ID cards
The names of covered family members are not listed on the ID card.
Some cards may feature an employer's name or logo.
Copay amounts are not shown on the card. You can determine if copays apply when checking the member's eligibility and benefits.
QR codes on BCBSNE ID cards will link to the member's Schedule of Benefits Summary.

By scanning the QR code, both the member and provider can access information about in-network and out-of-network deductibles and out-of-pocket maximums.
The cards will also include a phone number and website for member service.
BCBSNE ID card example: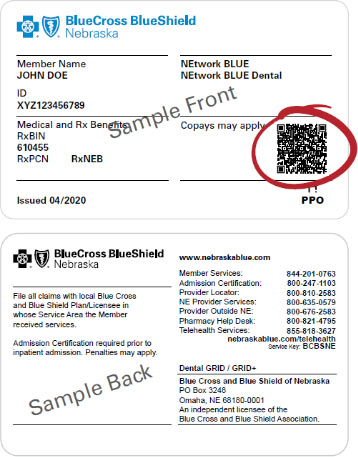 Helpful tips:
Photocopy the front and back of the member's ID card at every visit. This will enable you to submit claims accurately and avoid unnecessary payment delays.
Use NaviNet to check eligibility and benefits. For BlueCard claims, you may also call the BlueCard Eligibility line at 800-676-BLUE (2583).
Applicable deductible and coinsurance amounts are determined at the time of claim processing, not when the service is provided. Please note that these amounts can change between the time of service and when the claim is processed. Therefore, we ask that at the time of service, the member is only charged for copayments or non-covered services.
For questions about the debit card processing instructions or payment issues, please contact the toll-free debit card administrator's number on the back of the debit card.
BlueCard® - registered derivative