The federal government will end the COVID-19 emergency declarations on May 11, 2023. This means starting May 12, 2023, standard health plan provisions will apply with cost shares as applicable for COVID-19 testing, related services and vaccine administration.
Read more

Contact our Wellness Team!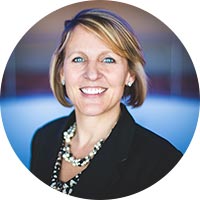 Kathy Nellor, Health Transformation Leader
Kathy Nellor is the health transformation leader at Blue Cross and Blue Shield of Nebraska (BCBSNE). In her role, she leads community and wellness initiatives and develops solutions and connections that support the health and well-being of BCBSNE members and non-members.
Nellor is a seasoned health and wellness expert with over 25 years of experience and education in managing and creating innovative initiatives and programs in both the corporate and community setting. She joined BCBSNE in 2005, and prior to her current role served as the wellness manager, wellness consultant and wellness coordinator for BCBSNE. Before joining BCBSNE, she held health promotion positions at Westside Community Schools, Central States Health and Life Co. of Omaha and The Wellness Council of the Midlands.
Nellor is active in community service and serves on the boards of the American Lung Association and The Wellbeing Partners. Nellor received her bachelor's degree in exercise science/wellness from Wayne State College.