We're closely monitoring the COVID-19 situation. Read about coverage for members.
Read more

Contact our Wellness Team!
Kathy Nellor, Health Transformation Leader
Kathy Nellor is the health transformation leader at Blue Cross and Blue Shield of Nebraska (BCBSNE). In her role, she leads internal and external community and wellness initiatives and develops solutions and connections that support the health and well-being of BCBSNE members and non-members.
Nellor is a seasoned health and wellness expert with over 25 years of experience and education in managing and creating innovative initiatives and programs in both the corporate and community setting. She joined BCBSNE in 2005, and prior to her current role served as the wellness manager and wellness coordinator for BCBSNE. Before joining BCBSNE, she held health promotion positions at Westside Community Schools, Central States Health and Life Co. of Omaha and The Wellness Council of the Midlands.
Nellor is active in community service and serves on the boards of the American Lung Association and The Wellbeing Partners. Nellor received her bachelor's degree in exercise science/wellness from Wayne State College.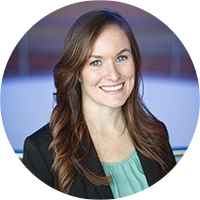 Caroline Kahnk, Wellness Coordinator
Caroline Kahnk is the wellness coordinator at Blue Cross and Blue Shield of Nebraska (BCBSNE). Kahnk joined BCBSNE in 2013 and leads the company's internal wellness initiatives, in addition to supporting external wellness programming for BCBSNE members.
Prior to joining BCBSNE, Kahnk has over 13 years of experience with wellbeing programming. She worked for Alegent Creighton Health in their medically integrated wellness centers and held a variety of roles responsible for the entire member experience from leading customers through membership, orientations, fitness testing, programming and classes.
Kahnk received her bachelor's degree in exercise science from the University of Nebraska at Omaha and her master's degree in health promotion management from Nebraska Methodist College.