The Blue Cross and Blue Shield of Nebraska board of directors has named Jeff Russell as the company's new president and CEO, effective June 26. Read more

Monthly Challenges
Improve your health one step at a time by completing free monthly wellness challenges from Blue Cross and Blue Shield of Nebraska. Each challenge targets a specific well-being area to help you focus your efforts and create long-lasting healthy habits.
Recruit coworkers, friends and family members to tackle challenges with you. After all, it's easier to succeed with a support system by your side.
Access monthly toolkits, which include challenge details, healthy tip sheets and promotional posters.
January - Reboot Resolutions Month
Setting S.M.A.R.T. goals set you up to succeed by building confidence and momentum. Read 10 ways to reboot your resolutions.
Challenge Materials
February – Choose Healthy Habits
A routine checkup to measure blood pressure, blood fats and weight can help you know what habit changes will improve heart health. Boost your heart healthy habits with these 8 tips.
March – Eat Your Leafy Greens
Eating a plant-based diet can improve your long-term health in many ways and help you feel better over time. Read 8 ways to eat more leafy-green foods.
April – Walk for Health
Walking for 30 minutes a day or more on most days of the week is a great way to improve or maintain overall health. Get motivated by taking this month's health challenge.
May – Be Strong: Strengthen Your Bones
When you think about staying healthy, keeping your bones strong and preventing osteoporosis should also be a top priority. Take this month's challenge and learn seven ways to build strong bones.
June – Work Your Brain
Have you ever walked into a room and forgotten why you were there? You're not alone. Brainpower is always in flux and a number of factors impact memory. Discover how healthy brain habits can boost brain power during this month's challenge.
July – Sun-Safety Month
Spending time outside is a great way to stay active this summer. But too much time in the sun unprotected can be harmful to your skin, vision and overall health. Learn how to protect your skin with this month's challenge and supporting materials.
August – Cook Healthy Meals at Home
When we take a close look at our eating habits – it can be a good measure of overall health. Creating healthy home-cooked meals doesn't have to be difficult or only created by a master chef or nutrition expert. People who have adopted healthy habits -- like making smart food choices -- can add more quality years to their life.
September – Know Your Medical History Month
Your family's medical histories play an important role in preventing disease and helping you live a longer and healthier life. Yet, keeping track of your history can be hard. Discover five tips for organizing your information in this month's challenge.
October – Mental Health Awareness Month
A solid social network can positively impact your health. Laughing and talking with friends can make you feel better and improve your mood. Discover ways to help build strong social bonds by taking this month's health challenge and reading through the challenge materials.
November – Diabetes Awareness Month
One way to stay active for a longer, healthier life and avoiding chronic disease is realizing small movements throughout your day add up. Join this month's challenge to learn how the energy you use and the calories you burn doing day-to-day activities count.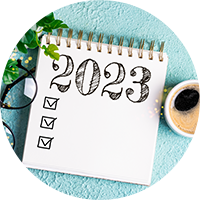 December – Develop Healthy Habits Month
A Harvard University study examined the habits of 123,000 people for more than 30 years and found five specific habits that can help you live a longer and healthier life. Discover how to develop and keep these habits one step at a time during this month's challenge.