Good Health Starts Here
Preventive Care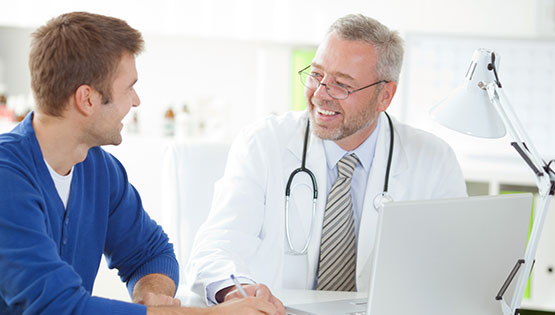 Many health conditions can be prevented or detected early by making healthy lifestyle choices. Use these Preventive Health Guidelines to help maintain a healthy lifestyle, but talk with your doctor about your specific health concerns, and follow your doctor's advice.
Routine preventive care is an important step to staying healthy and is generally covered at 100% by most of our health plans. Please note: A preventive care visit could potentially turn into a diagnostic visit should something be found which could lead to out-of-pocket expenses.
Examples of preventive care services include:
Annual check-ups
Screenings
Immunizations
Counseling
These preventive measures can help you and your family avoid developing health problems and prevent minor issues from becoming major health concerns such as diabetes and colon cancer.
Annual Exams
Each year you should visit with your doctor and discuss your concerns, family history and current issues. This is an important step in early detection for any age.
TIP: Summer months are typically the hardest months to get a check-up appointment scheduled. Try scheduling your check up before May or after August.
Understand the difference between preventive and diagnostic
Preventive care includes routine well exams, screenings and immunization intended to prevent or avoid illness or other health problems.
Diagnostic care includes care or treatment when you have symptoms or risk factors and your doctor wants to diagnose them.
Cancer Screenings
For certain types of cancer, early detection can increase survival rates by as much as 35 percent and can even prevent cancers altogether. Over the last five years, breast, lung, and colon cancers remain in the top five cancer diagnoses in the state of Nebraska*.
Early detection starts with screening, and most screenings are covered at 100 percent under your plan when you stay in network. Now is a good time to start thinking about getting your appointments scheduled – whether that is to get an annual check-up or for one of the cancer screenings listed below.
Check your plan's benefit information to see what screenings are covered at 100 percent, or call Member Services at the number on the back of your ID card.


BREAST CANCER
Starting at age 40, women should get a mammogram each year; earlier or more often if recommended by your doctor.
COLORECTAL CANCER
Screenings include colonoscopies, sigmoidoscopies, proctosigmoidoscopies, barium enemas, fecal occult blood testing, Fit DNA (once every three years) and other related services. Recommended each year starting at age 50, with fecal occult blood test or a flexible sigmoidoscopy every five years; earlier or more often if recommended by your doctor.
For more information, view our Colorectal Cancer Screening frequently asked questions.
CERVICAL CANCER
Pap test every three years for women 21 to 65. Over 65, as recommended by your doctor. Human Papillomavirus (HPV) test every three years starting at age 30.
LUNG CANCER
Screenings are recommended each year for adults age 55 – 80, who have either a 30-pack-a-year history of smoking, currently smoke or have quit within the past 15 years. Preauthorization is required.
*Nebraska Cancer Registry: Cancer in Nebraska: Fact Sheet #1, June 2017
These preventive guidelines are based on national recommendations. Please review your plan documents for coverage information.
To find out what's covered at 100%, please call the Member Services number on the back of your ID card.
Preventive Benefits