We're closely monitoring the COVID-19 situation. Read about coverage for members.
Read more
Telehealth
General
Policy Number: GP-X-016
Last Updated: Sept. 26, 2022

COVID-19 and Telehealth

Blue Cross and Blue Shield of Nebraska (BCBSNE) telehealth services policy includes the following providers:
Medical doctors
Doctors of osteopathy
Physician assistants
Nurse practitioners
Behavioral health providers
Occupational, physical and speech therapists
Certified Diabetic Educators (effective Apr. 1, 2022)
Licensed Medical Nutritional Therapist (effective Apr. 1, 2022)
Legislative mandate: Out-of-network telehealth services will be covered at no cost to the member if related to COVID-19 diagnostic testing.
Telehealth Codes
Member cost shares apply as of Jan. 1, 2021. The codes below are the only applicable telehealth codes that should be billed. Additionally, the below codes are the only applicable telehealth codes that should be billed with POS 02 or POS 10*** and modifier 95. All other procedure codes are not medically appropriate to be performed via telehealth.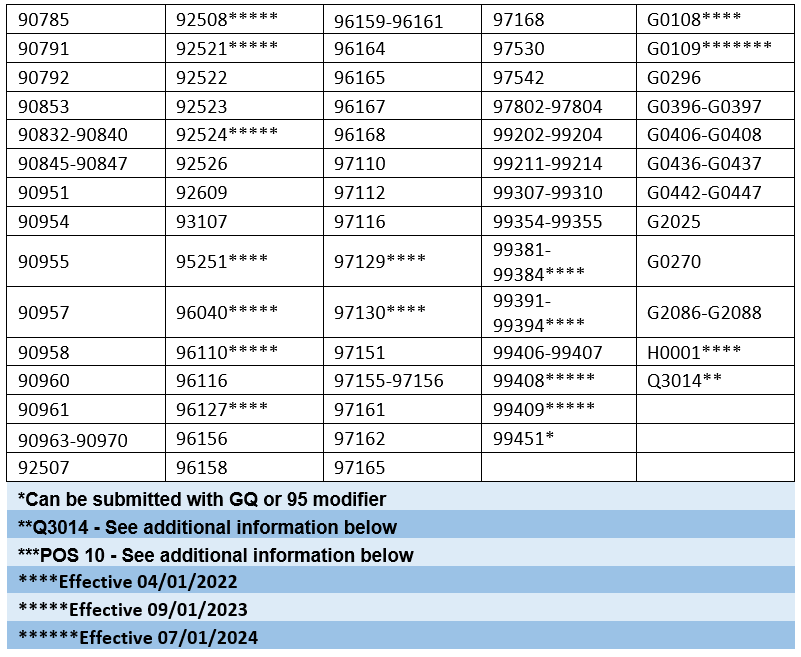 Institutional/facility claims will no longer be allowed, except as follows:
Effective 11/1/2020 OT/PT/ST
Effective 4/1/2022 POS 10 is effective with BCBSNE
Effective 4/1/2022 G0108 Diabetic Self-Management Training
Effective 4/1/2022 Q3014 Originating Site Fee

Appropriate billing of Q3014:
Facility:

Claim form: UB04
Type of Bill: 12X (Medicare Part B only), 13X, 22X (Medicare Part B only), 23X, 71X, 72X, 73X, 76X, and 85X
Revenue Code: 078X
Procedure Code: Q3014

Professional:

Claim form: HCFA 1500
Procedure Code: Q3014
Place of service: 11 (must be billed by a rural health clinic – RHC)

Provider at the distant site who is performing the telehealth visit with the member may bill their services on a HCFA 1500 form

Must use an approved telehealth code with POS 02 and modifier 95
POS 10 is not applicable
The below will not be considered for telehealth:
Quick Care
Urgent Care
Retail Clinic
ASC
Minute Clinic
Pharmacy
These changes are specific to BCBSNE members; please check benefits for Federal Employee Program (FEP) or out-of-state Blue Cross and Blue Shield (BCBS) members.

For coverage information on other BCBS Plans, as well as the BCBS FEP, related to COVID-19 treatment go to Blue Cross Blue Shield (bcbs.com).

Providers performing and billing teleservices must be eligible to independently perform and bill the equivalent face-to-face service.

Our members may seek telehealth services through their current physician/provider, or they can receive services through Amwell®. This information has been communicated separately to our members.

Amwell® is an independent company that provides telehealth services for Blue Cross and Blue Shield of Nebraska.