The federal government will end the COVID-19 emergency declarations on May 11, 2023. This means starting May 12, 2023, standard health plan provisions will apply with cost shares as applicable for COVID-19 testing, related services and vaccine administration.
Read more
Steven H. Grandfield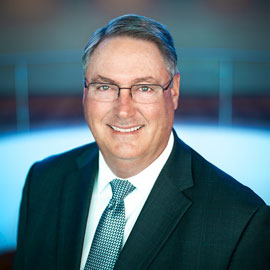 President and Chief Executive Officer
Steven (Steve) H. Grandfield is president and chief executive officer of Blue Cross and Blue Shield of Nebraska (BCBSNE). Previously, Grandfield served as executive vice president of strategy and innovation, talent, sales, marketing and products.
Before coming to BCBSNE in 2003, Grandfield was senior vice president, general manager at First Data Corporation. He currently belongs to the AIM Institute, in addition to serving on the Blue Cross Blue Shield Association (BCBSA) Board of Directors, the BCBSA Data Committee, the BCBSA Organization and Governance Committee and the Prime Therapeutics Board of Directors.
Grandfield earned his bachelor's degrees in business management from Northwest Missouri State, and in electrical engineering from the University of Nebraska.
Grandfield is active in community service and currently serves on the Greater Omaha Chamber of Commerce Executive Committee. Previously, he served on the Ak-Sar-Ben Board of Councillors.