Happening Now
October - End of the month payment
Updated Oct. 31, 2019
With the transition to our new system an additional payment has been added for the last business day of the month. This additional payment cycle will not be run for the month of October. We apologize for any inconvenience.
Federal Employee Plan (FEP) Claims Secondary to Medicare Advisement:
Updated Oct. 23, 2019
Claims processed by Medicare for the FEP product may have not crossed over to BCBSNE for processing. If 30 days have passed from the Medicare processing date, please submit the claim to BCBSNE. If it is less than 30 days please wait the 30 days to submit the claim. If you have any questions please reach out to FEP Customer Service.
Dental EOP Message Codes
Updated Oct. 17, 2019
For Explanation of Payments (EOPs) that have multiple pages, it is possible the message code description is missing.
Download code descriptions »
Download FEP code descriptions »
**Some codes have multiple descriptions, please review the EOP in question and determine what description is most applicable for the code in question.
FEP Payment RESUMED
Updated Oct. 17, 2019
We are pleased to inform you payments for our FEP members are underway.
Thank you for your patience and please continue to watch this site for additional updates as they become available.
270/271 Transactions
Updated Oct. 08, 2019
Until further notice, all 271 transactions will return the alpha prefix that is submitted on the 270 transaction. Please reference the member ID card for the current alpha prefix to be used for claims submissions.
Paper EOPs Missing Information
Updated Oct. 07, 2019
Paper explanation of payments (EOPs) from 9/30/19 through 10/7/19 were inadvertently sent with missing information. We anticipate having a resolution to resend complete EOPs very shortly and appreciate your patience.
Clear Coverage Interruption
Updated Aug. 23, 2019
Providers may experience intermittent disruption in the ability to create a preauthorization via the Clear Coverage tool. We are working on correcting this. For now, if a member is showing termed or inactive, please reach out to us via ProviderExecs@NebraskaBlue.com and we will research and provide next steps.
Please Note: This is not for all members, so please verify member benefits are active and if so, reach out to your Provider Executive.
Educators Health Alliance (EHA) Group Migration
Updated Aug. 23, 2019
This group will be migrating on Sept. 1, 2019. Please remember to check the Plan Code on all BCBSNE insurance cards.
Plan Codes
The plan code on the front of the ID card will change when the plan has moved to HealthRules.
Current Plan Code: 263/763
New Plan Code: 259/759

Copayment Discrepancy
Updated July 9, 2019
For members whose plan has migrated to our new system Health Rules, we have identified a communication gap regarding the copayment displaying in Navinet. The copayment information displaying is not accurate. For copayment amounts, the member should refer to their benefits or contact Customer Service.
Providers should use IVR or can call Customer Service to obtain accurate copayment amounts for those plans on HealthRules. To know which plans have migrated, please refer to the plan code on the ID card.
Plan Codes
The plan code on the front of the ID card will change when the plan has moved to HealthRules.
Current Plan Code: 263/763
New Plan Code: 259/759
Please be sure to enter the correct ID number from the members card as the ID numbers have changed once migrated.
Recoupment
Updated May 31, 2019
You will notice changes to the recoupment initiation notifications and recoupment offsets displayed in your 835s and EOPs. Changes include the following:
Changes to 835 and EOP:
Recoupment offsets will be reflected immediately
Recoupment offsets will not happen for a minimum of 30 days after notification
When money is deducted from a future payment; it will be important to reference the previous 835/EOP for details
Once a claim has been adjusted/voided, the adjustment/void and the offsetting of the recoupment will be reflected in the next 835 and/or EOP
New for HealthRules:
FEP claims will offset immediately
Partial recoupments
dental recoupments
Payment Impact = True

The financial impact is realized on this RA

Payment Impact = False

The financial impact is realized on future RA

Reversals will no longer be seen on the recoupment claim run since this was communicated when the recoupment was initiated
The received payment amount will only reflect in the 835 when claims have been adjusted and the payment is applied to the receivable within the same payment cycle.
On the paper remit (EOP) when a recoupment is offset against from a subsequent payment run you will see a recoupment amount listed next to the corresponding claim number as well as the total recoupments and the net payment
When the receivable is reported on the current payment is recouped against itself in the same payment, the final claim will include an extract message representing the change in payment amount but not recoupment details
Adjustments/Voids:
The claim being voided will reflect as a reversal of the original 835 that was generated for that claim payment
That void will appear as the exact opposite of the original 835

Each line amount and count will be shown with the opposite amounts (positives will become negatives and negatives will become positives)
Since there will be no net change in the check payment, the net reversal to the paid amount will also be reflected in a check level Provider Adjustment (PLB) segment with a qualifier of Forwarding Balance (FB) for a negative adjustment
Notes include:
Where to find the adjustments on the claim
An example of the new change where positives become negatives and negatives become positives
How to tell if the adjustment affects the claim
An example of a message indicating the amount retracted from the adjusted claim
Questions? Reach out to your Provider Executive Team »
Claims System Transition
April 1, 2019
At the beginning of the year, we began transitioning to a new claims processing system, called HealthRules. HealthRules provides a next generation core administration system for health plans which allows for improved efficiencies in administration.
The transition started with FEP CareFirst and BCBSNE employees plan on January 1, 2019. Other members will be transitioned in stages. Throughout this transition, our goal is to minimize disruption to our customers. The following are some of the changes that our members and providers will notice.
Member ID Cards
New ID cards will be provided for members with updated information, such as a new prefix, ID number and customer service telephone number. Members must provide their new card to their doctor, pharmacy or facility.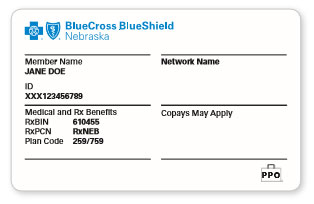 Plan Codes
The plan code on the front of the ID card will change when the plan has moved to HealthRules.
Current Plan Code:
263/763
New Plan Code:
259/759
Offsetting
HealthRules will offset Dental Claims. FEP will take immediate offsetting for CareFirst and other FEP claims.
Payment Cycles
Please see below for updated payment cycles.

Claims Review and Remittance Advice (RA)
Claims for BCBSNE employees and retires (with prefixes NEQ and YZL) on 1/1/19 or after are being reviewed to ensure quality processing. We are sending remits and applicable payments in small increments and expect to be sending higher volumes in the upcoming weeks.
Some terminology and documents are changing. Remittance Advice (RA) has new formats and fields as well.
Remittance Advice Tip Sheet