We're closely monitoring the coronavirus situation. Read about coverage for members.
Read more
Happening Now
For ease of access, we have created a COVID-19 page which will be your source for updates during this pandemic. View COVID-19 updates »
ASC - Modifier SG and Retroactive Changes
Updated Apr. 3, 2020
ASC - Modifier SG
Beginning April 15, 2020, all ASCs must append modifier SG to the claim form (HCFA 1500) for proper payment of facility claim(s).
Retroactive changes
Due to the ever-changing status of COVID-19, BCBSNE will research and make retroactive changes to claims on your behalf as we adjust our policies.
Locating EFTs/Checks on NaviNet
Updated Mar. 20, 2020
NaviNet has two dropdowns:
Billing Provider, which is required
Servicing Provider, which is optional
To see all EFTs/Check associated with the billing provider, do not select an option on the Servicing Provider dropdown.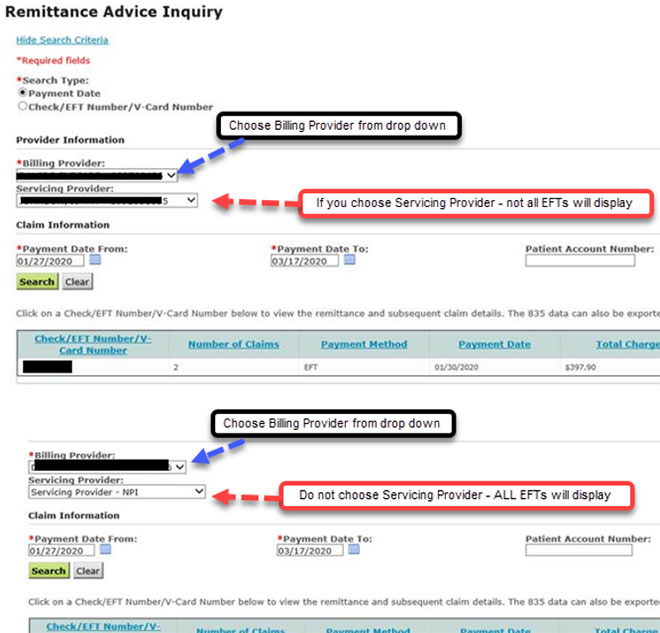 Medical Claim Status Questions
Updated Mar. 13, 2020
During these uncertain times and as more cases of COVID-19 develop we will be prioritizing calls to Customer Service in order to better serve you, our provider and our member.
We will be focusing on calls related to processed claims, pre-authorizations and appeals. If you are calling about claim status, please utilize the IVR or Navinet until further notice.
We will take 10 member ID's instead of the current 20. This again is an effort to lessen the hold times and be available for our customers.
Customer Service will continue to take the following claim questions calls from medical providers:
Adjustments
Appeals
Reconsiderations
Refunds
Returned claims
We understand checking claim status is time-consuming. We do acknowledge we have a backlog we are working to reduce.
Please continue to watch Happening Now and our provider UPDATE for future communications.
NaviNet Fee Schedules Restored
Updated Mar. 13, 2020
Please be aware fee schedules on NaviNet are now available.
Please begin using NaviNet to obtain fee schedules that have normally been obtained there. Thank you for your patience as we worked to resolve this matter.
Taxonomy Required on All Claims
Updated Mar. 13, 2020
BCBSNE introduced the requirement for taxonomy codes on electronic claims in 2019. Our May UPDATE provided additional information. Beginning March 16, 2020, we will require both electronic and paper claims to be submitted with the taxonomy code.
Currently, our system is rejecting electronic claims missing the taxonomy code, but we have been processing paper claims. Beginning Monday, March 16, 2020, we will also return paper claims. Making this change will allow us to process claims more efficiently.
For additional information, please see Claims FAQs »
Remit/EOP Timing
Updated Jan. 8, 2019
Previously, remits and EOPs were received simultaneously with payments. In our new system, HealthRules, this will not always be the case. Typically, remits will be received within 72 hours from the time of the weekly payment. Reminder, remittance information is available via NaviNet. If you are unable to retrieve your remittance advice after 72 hours, please check NaviNet and your clearinghouse, if applicable.
If you are unable to locate remits after using the steps above, please email your request to ProviderServicesOperationsSupport@nebraskablue.com. Our teams will research and follow-up within 10 business days.
Please include:
Provider name, NPI, Tax ID
Details on the payment

Check number (if applicable)
Check amount (if applicable)

Date missing
Contact information
Corrected Claims

Updated Dec. 13, 2019
When a corrected claim is submitted, the billed amount for the corrected claims will be the same as the original billed amount on the remits and EOBs. BCBSNE will correct the claim as submitted by the provider, this will reflect in the allowed amount and the paid amount. The billed amount will always reflect the original claim amount.
Dental EOP Message Codes
Updated Oct. 17, 2019
For the Explanation of Payments (EOPs) that have multiple pages, it is possible the message code description is missing.
Download code descriptions »
Download FEP code descriptions »
**Some codes have multiple descriptions, please review the EOP in question and determine what description is most applicable for the code in question.
270/271 Transactions
Updated Oct. 08, 2019
Until further notice, all 271 transactions will return the alpha prefix that is submitted on the 270 transactions. Please reference the member ID card for the current alpha prefix to be used for claims submissions.
Recoupment

Updated May 31, 2019
You will notice changes to the recoupment initiation notifications and recoupment offsets displayed in your 835s and EOPs. Changes include the following:
Changes to 835 and EOP:
Recoupment offsets will be reflected immediately
Recoupment offsets will not happen for a minimum of 30 days after notification
When money is deducted from a future payment; it will be important to reference the previous 835/EOP for details
Once a claim has been adjusted/voided, the adjustment/void and the offsetting of the recoupment will be reflected in the next 835 and/or EOP
New for HealthRules:
FEP claims will offset immediately
Partial recoupments
dental recoupments
Payment Impact = True

The financial impact is realized on this RA

Payment Impact = False

The financial impact is realized on future RA

Reversals will no longer be seen on the recoupment claim run since this was communicated when the recoupment was initiated
The received payment amount will only reflect in the 835 when claims have been adjusted and the payment is applied to the receivable within the same payment cycle.
On the paper remit (EOP) when recoupment is offset against from a subsequent payment run you will see a recoupment amount listed next to the corresponding claim number as well as the total recoupments and the net payment
When the receivable is reported on the current payment is recouped against itself in the same payment, the final claim will include an extract message representing the change in payment amount but not recoupment details
Adjustments/Voids:
The claim being voided will reflect as a reversal of the original 835 that was generated for that claim payment
That void will appear as the exact opposite of the original 835

Each line amount and the count will be shown with the opposite amounts (positives will become negatives and negatives will become positives)
Since there will be no net change in the check payment, the net reversal to the paid amount will also be reflected in a check level Provider Adjustment (PLB) segment with a qualifier of Forwarding Balance (FB) for a negative adjustment
Notes include:
Where to find the adjustments on the claim
An example of the new change where positives become negatives and negatives become positives
How to tell if the adjustment affects the claim
An example of a message indicating the amount retracted from the adjusted claim
Questions? Reach out to your Provider Executive Team »
Telehealth services are offered through American Well®, also known as Amwell. American Well is an independent company that provides telehealth services for Blue Cross and Blue Shield of Nebraska.